Harlem Word: Yoga instructor Stephanie Pope Caffey tells us about Bikram yoga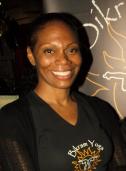 Stephanie Pope Caffey is a yoga instructor in Harlem.  She and her sister, Jennifer Pope, own Bikram Yoga East Harlem, which introduces "hot" yoga to Harlemites seven days a week.  In this article, she explains what Bikram yoga is and some of its benefits. Read more below!
Q: What is Bikram yoga?
A: During each 90-minute class of Bikram yoga, we begin and end with a breathing exercise.  In between the breathing exercises, we complete a set series of 26 beginner Hatha yoga postures. We do this in a heated room (about 105 degrees with a maximum of 50% humidity). 
Q: What are the benefits of performing yoga in the heat?
A: The heat helps to minimize the risk of injury, helps with blood circulation through the body, and helps detoxify or clean your body because you sweat a lot.  It also assists with deeper stretching and provides stress relief.  The heat helps the respiratory system - as do the postures and breathing exercises.  All the main systems of the body - the circulatory system, the respiratory system, the reproductive system, the immune system, and the skeletal system - can benefit from the Bikram yoga practice.
Q: What advice would you give people to encourage them to try Bikram yoga?
A: I have to say, Bikram yoga is not an easy sell.  The less you say, the better because when you tell people you practice in 105 degrees with humidity and sweating they are not going to want to come.  All you can really do is be a walking advertisement because you'll look good from it.  The more you practice Bikram yoga, the better you're going to feel and look.  Your posture will change, your clothes will fit differently, you're going to glow, and people are going to say, "What's going on with you?"  And, then, you can just tell them, "I'm taking this yoga class, you should come."  Showing people the results is the best way to encourage them to join a class.
Bikram Yoga East Harlem is located at 4 E. 116th Street between 5th and Madison Avenues (on the 2nd and 3rd floors). Visit the studio's website for class schedules and more information about Bikram yoga!
Harlem Word is a series of interviews with Harlem health experts, written by HHPC and reviewed by our Health Advisory Board.
Click the links below to read more from Stephanie Pope Caffey: