The One Stop Cooking Workshop
The One Stop Cooking Workshop
2479 Fredrick Douglass Blvd.
Complete Meals. Easy Recipes. Affordable Ingredients.
Kitchen Duel: Battle of the Soups

 
Sarah and Josh invite you to take part in a FREE hands-on cooking workshop on Satu
rday, September 25, at Harlem4's office. Two groups will each make a healthy, affordable, single-dish meal, and will learn and share easy tips for preparing, cooking and storing fresh food. Space is limited for cooking, but all attendees will be able to observe, share ideas and taste the two dishes. 
All ages and experience levels are heartily welcome. RSVP ASAP to reserve a spot on one of the cooking teams.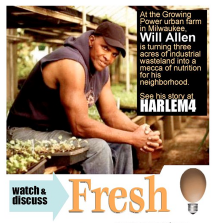 The free cooking workshop begins at 1:00 PM and will be followed by a screening of the film FRESH.
Come early to see the meal unfold, stay to taste the food, and stick around for an amazing film screening. 
Offered in collaboration with HealthCorps, a non-profit organization founded by heart surgeon Dr. Mehmet Oz that works in high schools across America to fight childhood obesity.