Harlem Word: Dr. Olajide Williams uses hip-hop to teach kids about health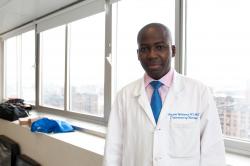 Dr. Olajide Williams, MD, MS is a neurologist and the director of the Stroke Center at Harlem Hospital. He is also the founder of the Hip-Hop Public Health Education Center, which uses hip-hop to teach people about health.
Q: What is the Hip Hop Public Health Education Center?
A: It is a center located in Harlem Hospital that uses hip-hop as a way to teach people about different health topics. The center is has two major programs. The first is the Hip Hop Stroke program developed by me in partnership with the National Stroke Association, focuses on improving children's knowledge about what stroke is, how to prevent it, and what to do if they see someone having a stroke.
The other program is our Hip Hop H.E.A.L.S program, which stands for Healthy Eating and Living in Schools. This program focuses on teaching young children how to live healthier lives through good nutrition and exercise.
Q: How do you use hip-hop to teach children about stroke and healthy eating?
A: I recruited hip-hop artists such as Doug E. Fresh, Easy AD (one of the founding members of the Cold Crush Brothers), and Chuck D to help us with our programs. This group of pioneering hip-hop artists, helped create original music, beats, and health rhymes for the program.
I spent a lot of time teaching our celebrity hip-hop artists about the specific health issues that I wanted them to talk about in the music they created, such as stroke and nutrition, but I left the creativity to them. I told them that the song lyrics had to be visual because I wanted to animate all of the music and turn them into cartoons. So not only did we produce original music, we also created animated cartoons, comic books, and videos. See an example of a video here:
http://www.youtube.com/watch?v=0QDB_B7MIXI 
Q: Why do you think that using hip-hop is a good way for kids to learn health information?
A: Because it's fun! To get a child's attention you have to spark their imagination. In my opinion, the most effective way to get children to listen and learn is to win over their hearts and minds; and hip-hop music does that. Children already love, embrace, and listen to hip-hop; it is part of their everyday lives. So instead of looking for a brand new way to get kids interested, we are using what's already available and working. I thought that if I could capitalize on kids' passion for hip-hop by combining it with health education, then we may well just stumble across a fun way to teach them how to lead healthier lives.
Read more from Dr. Williams by clicking the links below:
Harlem Word is a series of interviews with Harlem health experts, written by HHPC and reviewed by our Health Advisory Board